SMALL BUSINESS RESOURCES
Make Your New or Existing Business Successful
The free program, "Resources for Starting and Growing Your Business" was held Wednesday, June 5th at Rowan College at Burlington County. Sponsored by the Burlington County Freeholders and Burlington County Bridge Commission, this program featured 9 knowledgeable speakers that addressed the topics below (to access presentations, click on titles shown):  
Get Guidance on Where to Begin
Erika Pearson  Lender Relations Specialist,
US Small Business Administration (SBA)
Joan Divor  Business Librarian/Coordinator of Community Partnerships, Burlington County
Library System
Forming Your Business
Wade Hale Deputy County Clerk, Burlington County
Abra M. Watson  NJ Division of Taxation
Robert Palumbo, MBA Director, NJ Small Business Development Center at Rutgers University-Camden
Rudi Grueneberg, Esq.  Grueneberg Law Group, Marlton
Kristi Howell  President/CEO, Burlington County Regional Chamber of Commerce
Finding Employees and Training Them    
Leah Arter  Business Development Administrator, Rowan College at Burlington County Workforce Development
Procuring Funds to Get Off the Ground
and Grow
Liz Verna, Acting Director, Economic Development & Regional Planning Dept, Burlington County Bridge Commission
Small Business Loan Program
The Burlington County Small Business Loan Program offers low-interest loans for small businesses, including start-ups and entrepreneurs, located anywhere in Burlington County.  Funds for this program were received from the United States Economic Development Agency and available in one of three forms:  fixed asset loan, working capital, or direct loan.  Fixed asset and working capital loans fund up to $200,000 in the form of gap financing that requires bank participation.  Direct loans fund up to $50,000 and do not require bank participation.
All small business loans carry no penalty for early payoff. The term for most loans is 10 years and in some instances may be 15 years. The interest rate for all loans is 75% of the prime interest rate. The rate at the time of application is a fixed rate; the loan remains at that rate for the loan duration. The only fee charged is a non-refundable $200 to be submitted with an application.
Loans are required to promote at least one of the following economic development goals:  (1) Create and retain permanent private-sector jobs within 18 months of loan funding, (2) Provide entrepreneurial opportunities for qualified individuals, (3) Stimulate private sector investments in physical plant and equipment for local small businesses, (4) Encourage the increase of available funds for local small businesses by leveraging state and private sector funds to maximum levels, (5) Stimulate balanced development.
Small Business Lenders Forum
More than 50 interested small business owners from Burlington County attended the free Small Business Lenders Forum held on Thursday, March 28 from 9-11 AM at the Burlington County Library Auditorium in Westampton.
Sponsored by the Burlington County Board of Chosen Freeholders and Burlington County Bridge Commission, the event began with welcoming remarks from Freeholder Director Tom Pullion and Freeholder Felicia Hopson.  Brief presentations by 14 area lenders followed, during which they shared specifics of their commercial lending programs.  Following the presentation, small business owners had the opportunity to speak with the presenters and gather important information from lenders' stations in the lobby.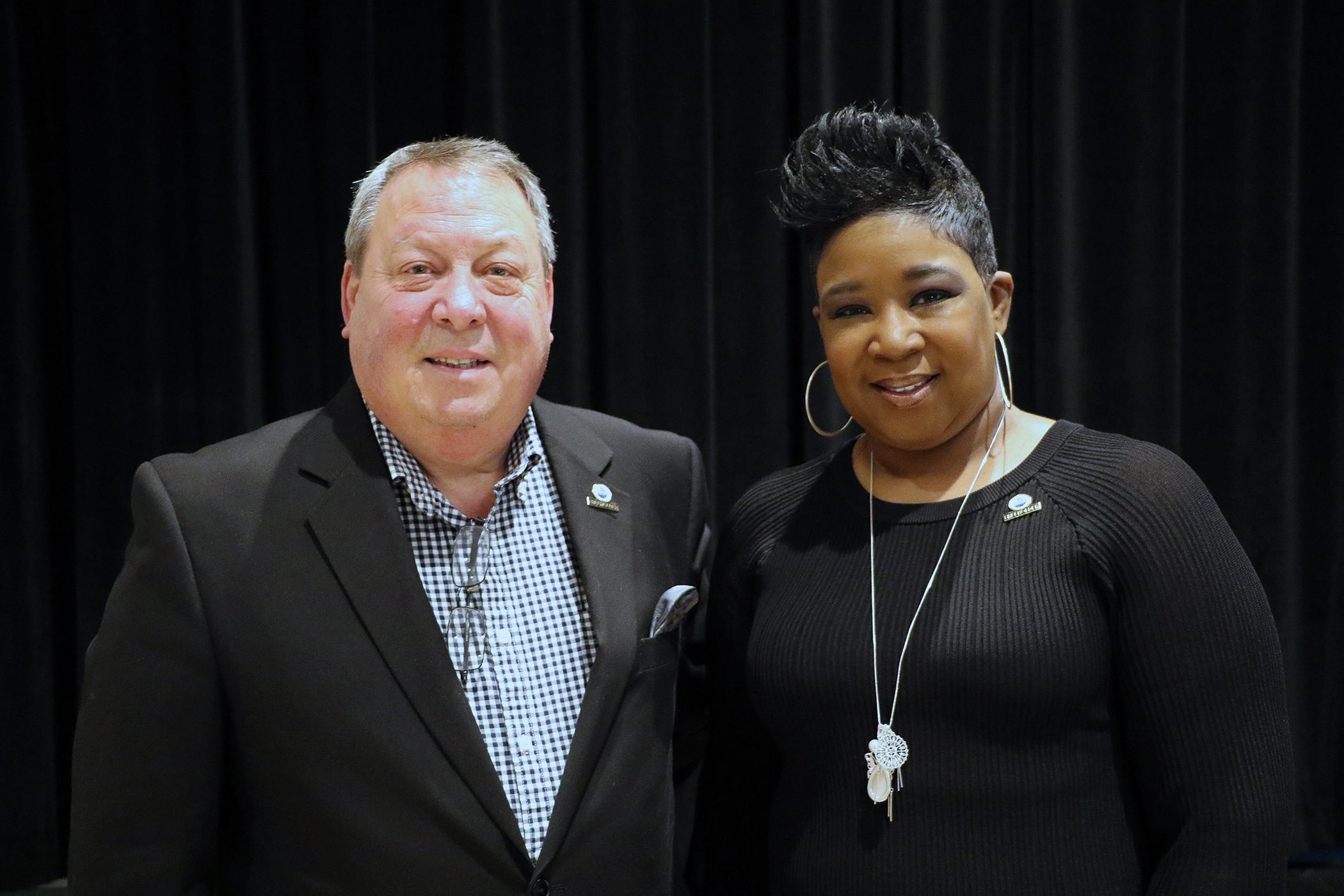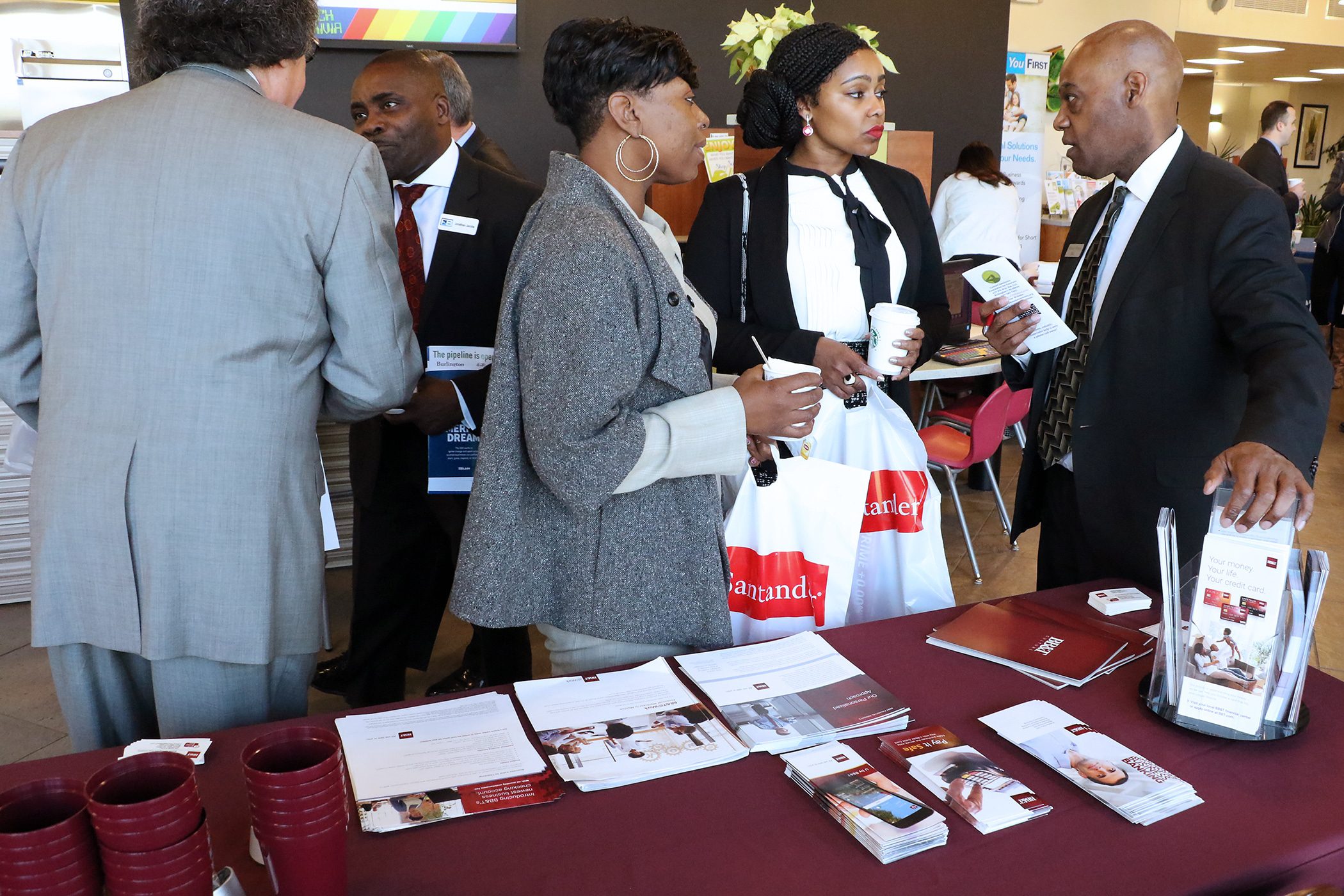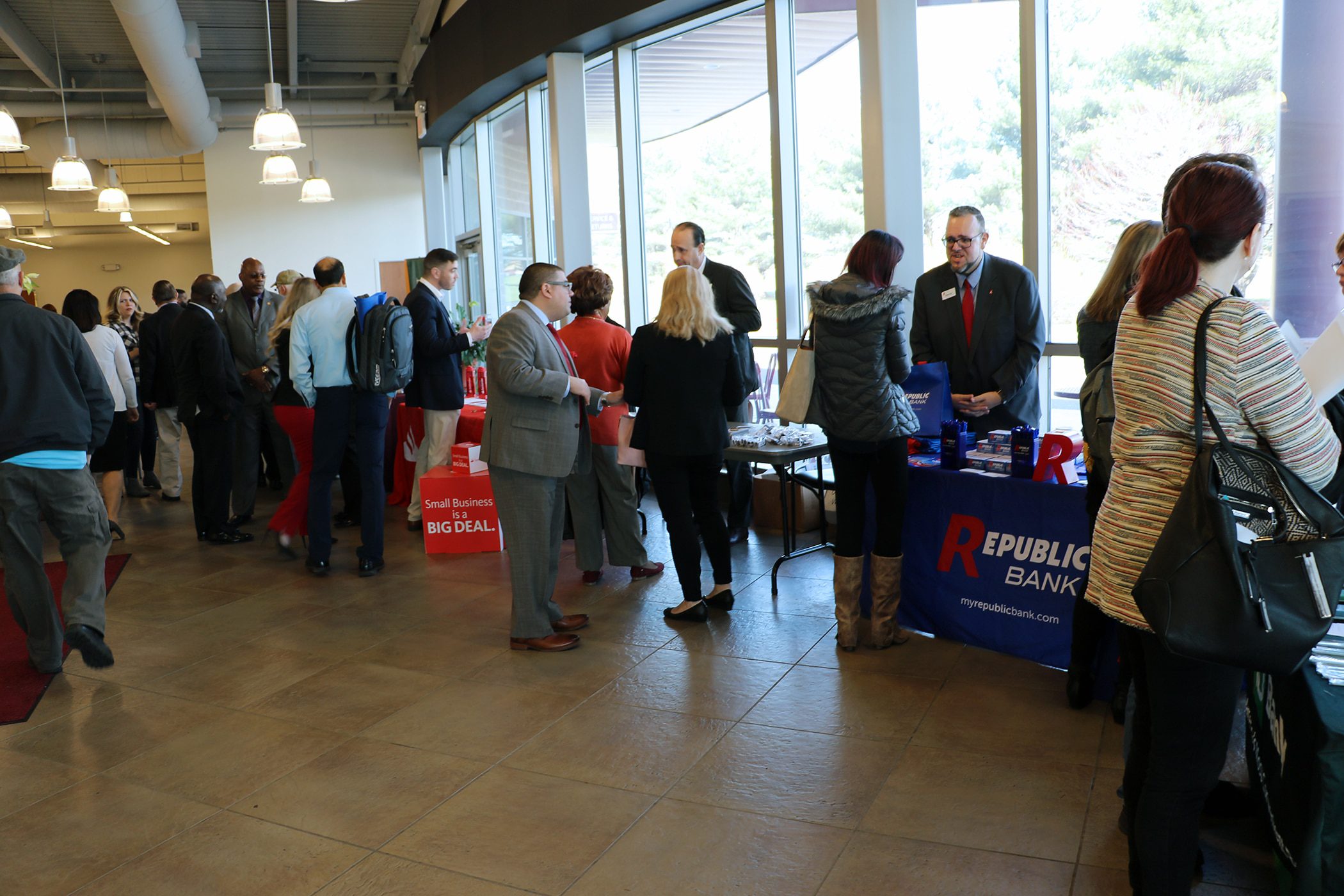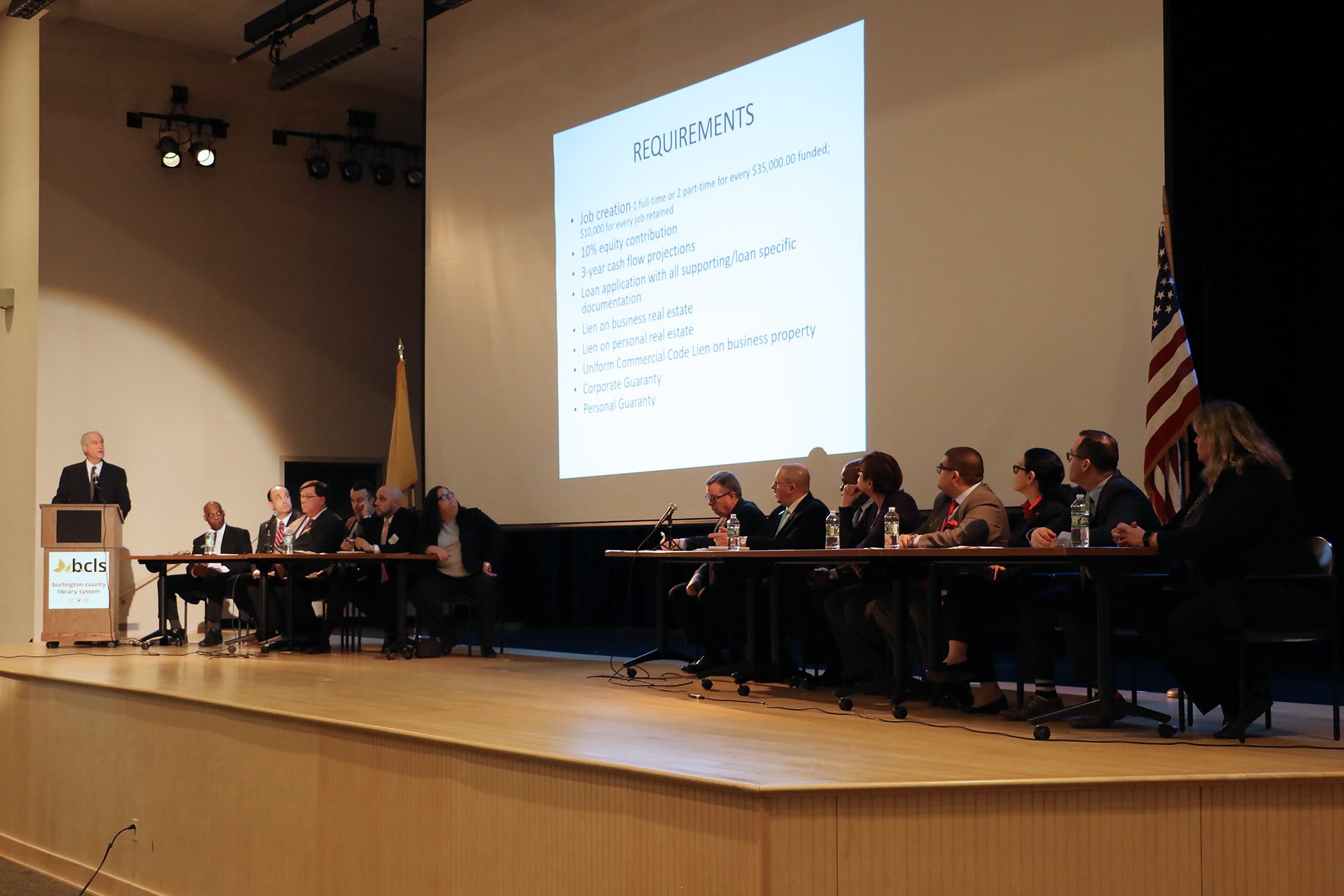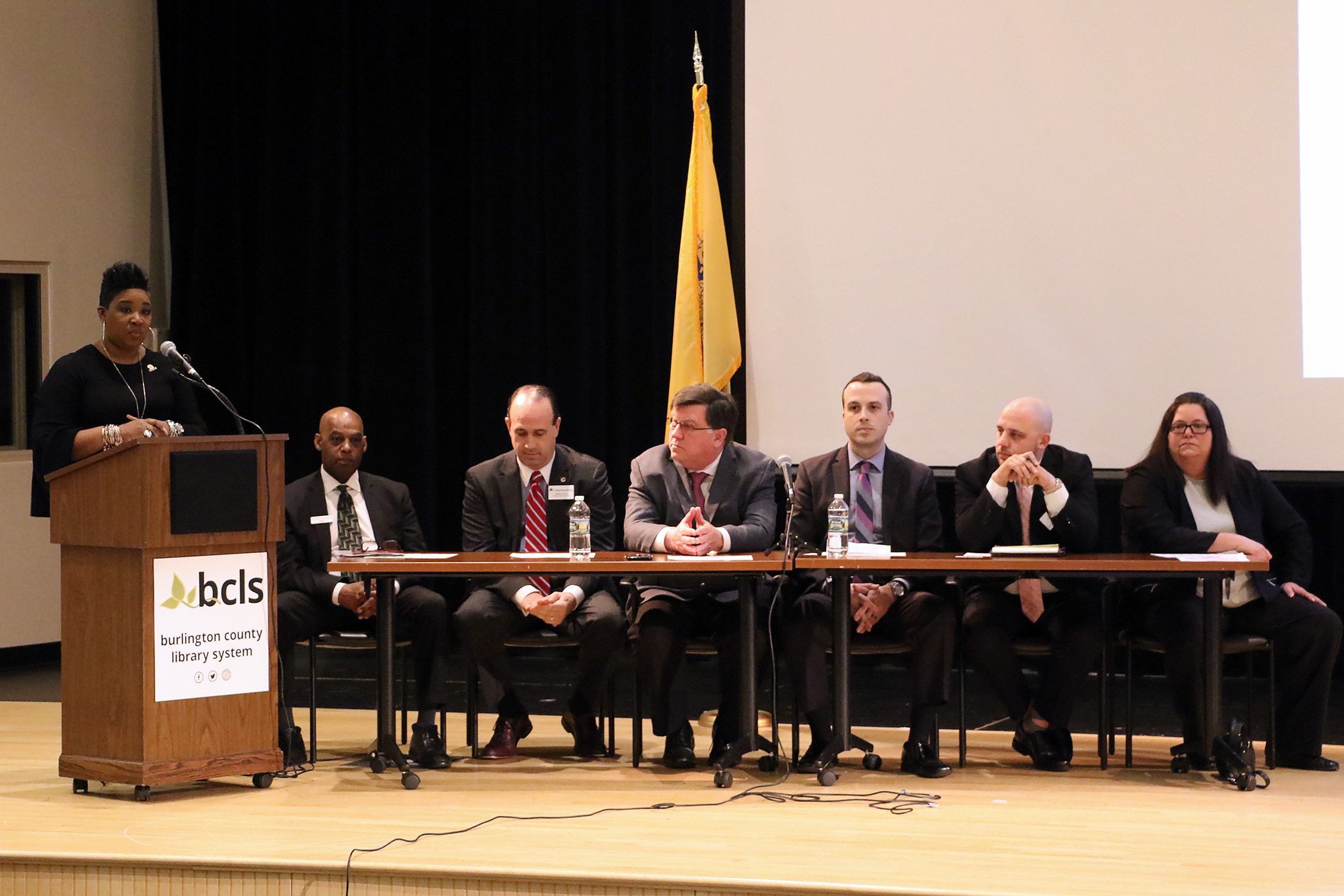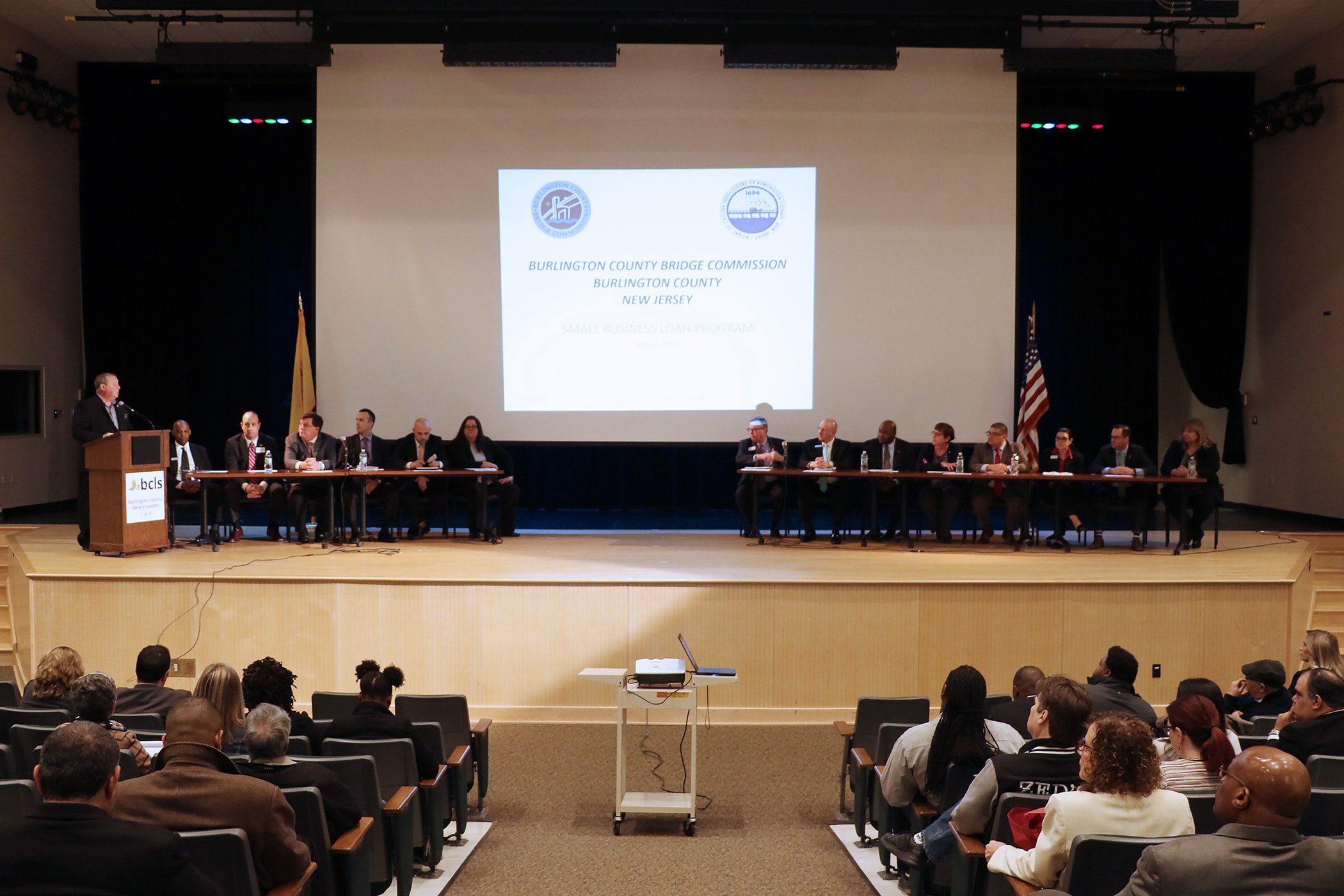 Freeholder Director Tom Pullion and Freeholder Hopson
BB&T Bank's Anthony Fleming advises two business owners
More than 50 business owners had the opportunity to network with lenders
Economic Development Manager Dave Wyche presents
Freeholder Hopson welcomes attendees
Freeholder Director Tom Pullion addresses presenters and business owners
Images Courtesy of Burlington County Library System
Program For Small Business Lenders Forum
Edit
Welcome
Freeholders Tom Pullion
& Felicia Hopson
County Economic Development
Manager Dave Wyche
BB&T Bank
Anthony Fleming
Columbia Bank
Darrin Gould
Cooperative Business Assistance Corporation
Harry Stone
First Bank NJ
Brett Lawrence
First Commerce
Dan Jackson
Fulton Bank of NJ
Lisa Viscusi
Investor's Bank
Chris Warren
M&T Bank
Chris Sylvia
Ocean First
Chris Livingston
Republic Bank
Pedro Figueroa and Amy Travetti
Santander Bank
Heather Hiltebeitel
Small Business Administration
Erika Pearson
TD Bank
Carl Willers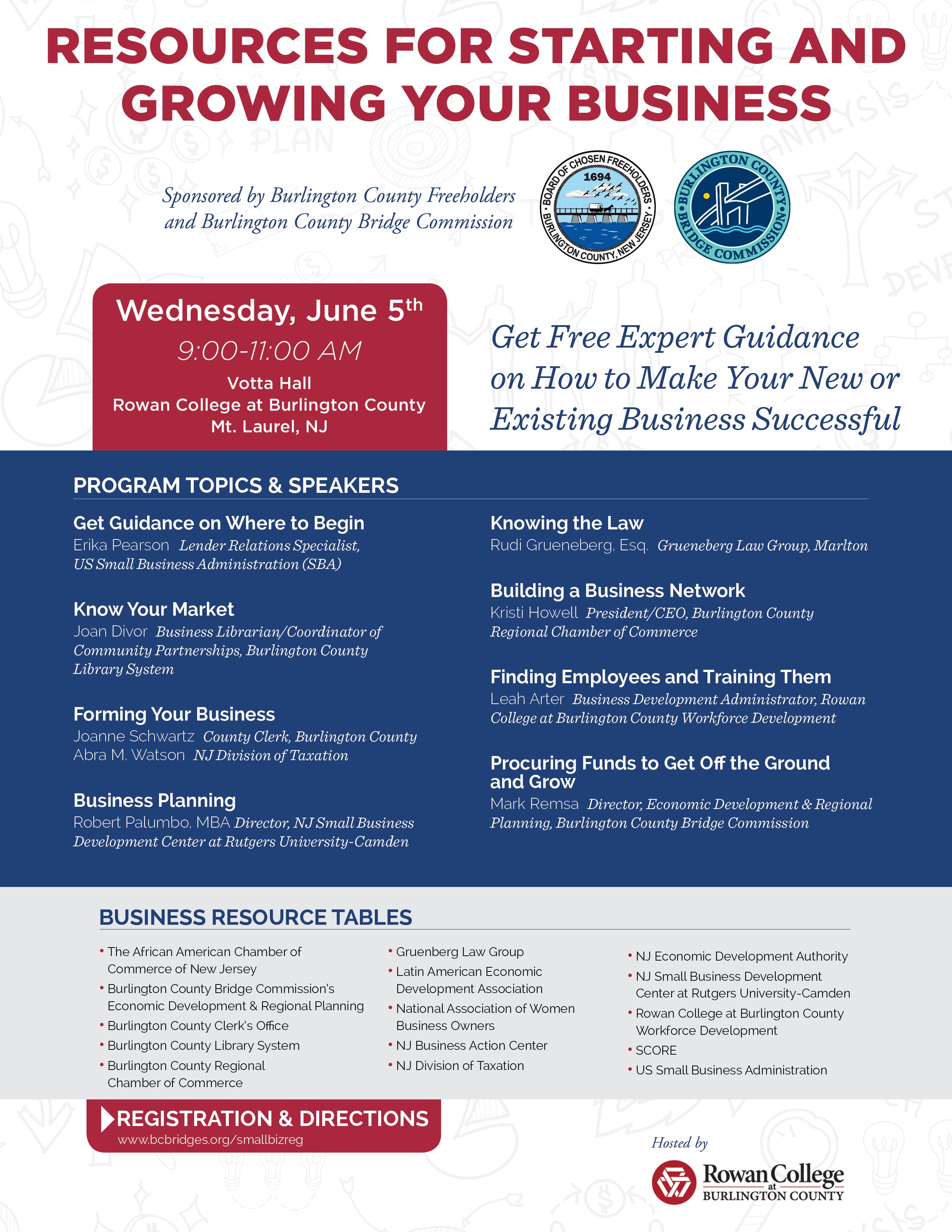 SMALL BUSINESS LOAN PROGRAM
for a comparison of loans and terms
SMALL BUSINESS APPLICATION
Business Resource Tables
The African American Chamber of Commerce of New Jersey
Burlington County Bridge Commission's Economic Development & Regional Planning
Burlington County Clerk's Office
Burlington County Library System
Burlington County Regional Chamber of Commerce
Gruenberg Law Group
Latin American Economic Development Association
National Association of Women Business Owners
NJ Division of Taxation
NJ Economic Development Authority
NJ Small Business Development Center at Rutgers University-Camden
Rowan College at Burlington County Workforce Development
SCORE
US Small Business Administration