MEET THE COMMISSIONERS
The Role of Commissioner
Appointed to three-year terms by the Burlington County Board of Chosen Freeholders, Commissioners are responsible for general oversight of the Burlington County Bridge Commission. In addition to attending and preparing for Commission meetings, Commissioners are involved in decision-making as it relates to governance of the agency. Specifically, their duties include oversight over all senior management of the Commission, general oversight over the implementation of appropriate management and financial controls, and maintaining procurement policies and procedures consistent with governing law. The Commission's Executive Director, responsible for the day-to-day management of Commission business, reports directly to and is accountable to the Commissioners.
Matthew Riggins
Chairman
Matthew Riggins serves as the Executive Vice President & CFO for Riggins, Inc., a mid-market energy and transportation business in South Jersey. Matthew previously worked as a management consultant for Booz Allen Hamilton, where he advised clients such as the Department of Commerce, National Science Foundation, the Federal Reserve Bank of New York, and the U.S. Department of Homeland Security, and was involved in the implementation of the American Recovery and Reinvestment Act after the Great Recession in 2009. Prior to Booz Allen, Matthew served as Legislative Assistant and Deputy Communications Director for Congressman Robert Andrews in Washington, D.C.   Matthew received his MBA from Georgetown University and his undergraduate degree from Bucknell University, and also holds an executive certification in Change Management from Georgetown University. Matthew has published research related to clean technology commercialization and the establishment of multi-sector partnerships. Matthew serves as a Board member of the Camden County Workforce Development Board, and Orchard Friends School in Riverton NJ, a private special education school. He is also the Trustee and Chairman of the Finance Council of Christ Our Light Catholic Church in Cherry Hill. Matthew is an Eagle Scout and resides in Moorestown with his wife and two children.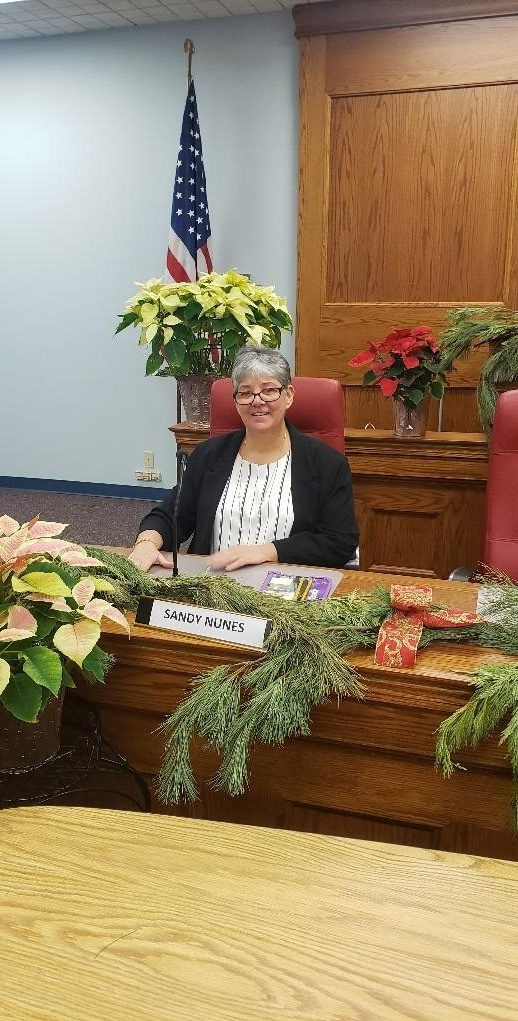 Sandra Nunes
Vice-Chairwoman
Sandra Nunes is on Maple Shade Town Council and is presently serving as Deputy Mayor. She has been an owner of L&S Chocolates in Maple Shade for more than 20 years. She is a graduate of Newark School of Fine and Industrial Arts and continued her education at New Jersey City State University and School of Visual Arts in New York City. She has also been a member of the Maple Shade Business association since its inception, which helps promote and retain the local business community. She has served as a board member on the State run 501C3 non-profit Main Street Maple Shade program and later as the interim Executive Director. Nunes is also an animal activist and volunteered for Animal Aide which supported no kill shelters. She was Assistant Art Director with Public Service Electric & Gas and is experienced as a real estate agent. She was an ASA umpire and had umpired for Girls Softball in Maple Shade for many years.
John B. Comegno II
Commissioner
Founder and President of the Comegno Law Group, P.C., Chairman Comegno is recognized nationally as a leading School Law practitioner, representing public and independent schools, Educational Services Commissions, and third-party special education vendors. He also serves as Solicitor or Special Counsel to dozens of public and independent schools and regularly mediates special education disputes and tries Due Process Hearings. A member of the NJ and PA bars and accepted to practice in jurisdictions across the country, Comegno is a cum laude graduate of Gettysburg College, and earned his Juris Doctor degree from the Wake Forest University School of Law.  He has extensive experience counseling public and independent schools on wide-ranging School Law issues, representing clients throughout New Jersey and Pennsylvania.  John is also a nationally recognized lecturer on School Law who regularly presents throughout the United States.  During the current school year, John has or will lecture in New Jersey, Pennsylvania, Delaware, Maryland, New Hampshire, and Washington State.  In addition to his service to the Burlington County Bridge Commission, Comegno is involved with the performing arts and youth athletics, as a board member for several local and national non-profit organizations, and teaches catechism in his church.